The Leela Palace, Udaipur has been ranked as the World's Best Hotel 2019 by New York's world-famous travel magazine 'Travel + Leisure'. The Hotel Leela Palace is rated first on the basis of its facilities, services, food, and overall location.
In the list of the best -100 hotels in the world, the number one title has been given to Udaipur's Five Star Luxury Hotel & Resort 'The Leela Palace Udaipur'. The Leela Palace Group has secured 10th position in the top 25 hotel brands of the world.
The City of Lakes – Udaipur

After the announcement of this award, the Udaipur city which is resting in the shadows of the Aravalli range in the southern portion of Rajasthan has been ranked 10th most beautiful city in the World and 6th in Asia. Udaipur City is rated on the basis of sights, landmarks, tradition, culture, cuisine, friendliness, shopping, and overall value.
The geography of the location makes everyone feel like it's a hill station with many beautiful lakes like Pichola, Fateh Sagar, Udai Sagar, Doodh Talai and others luxury hotels as a wedding venue, shopping malls, historical palaces, and bazaars which intensifies the romanticism of the location. Udaipur remains on every tourist's list which makes it an ideal spot for the best destination wedding in India.
The Leela Palace – Udaipur

The Leela Palace Udaipur is a jewel situated on the banks of the majestic Lake Pichola offering stunning views of the lake, City Palace, and the Aravalli mountains. The elegant and contemporary interiors of the rooms and suites at The Leela Palace Udaipur have exemplified Rajasthani palace architecture and evokes the grandeur of Udaipur's rich heritage and royal culture.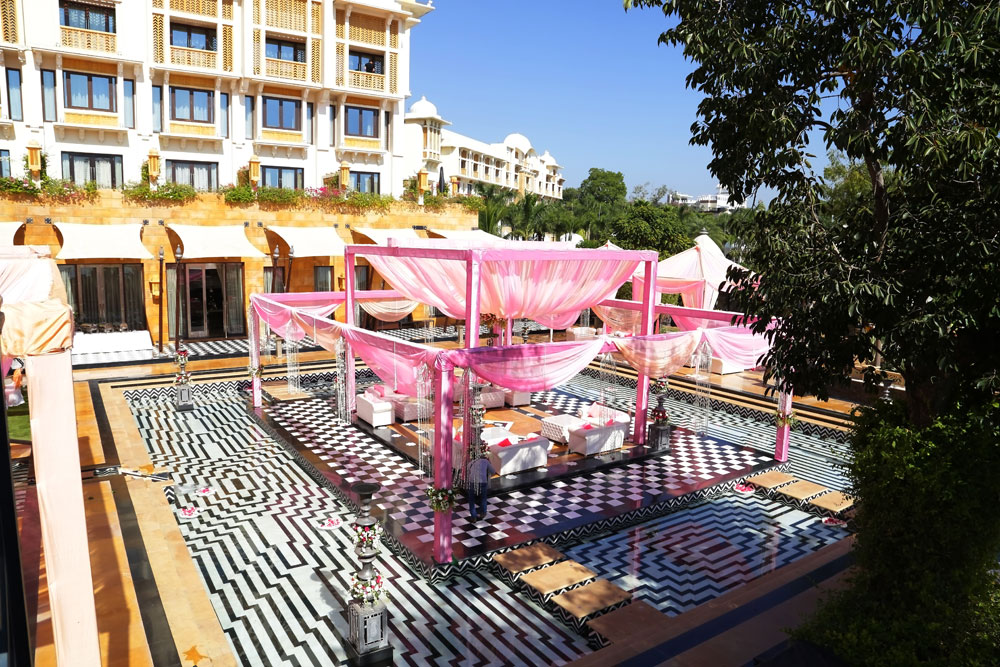 The Hotel has elegant 72-rooms and 8-suites which provide a breathtaking view of Lake Pichola. Also, the hotel offering a vast banquet hall which will be perfect for accommodating a large number of guests. According to the best wedding planner in Udaipur, the luxury hotel Leela palace is an ideal spot for a wedding destination or special celebrations.

Dream Makers Event recommend this hotel for luxury palace wedding in Udaipur which offers special wedding packages for couples including a sumptuous spa where guests can unwind with Ayurveda-inspired treatments. The hotel also gives you the chance to cruise around in a boat making you two fall in love again. Also, we have made a list of the budget wedding venues in Udaipur, you can choose a suitable venue for your destination wedding in Udaipur. Plan your dream destination wedding with us.