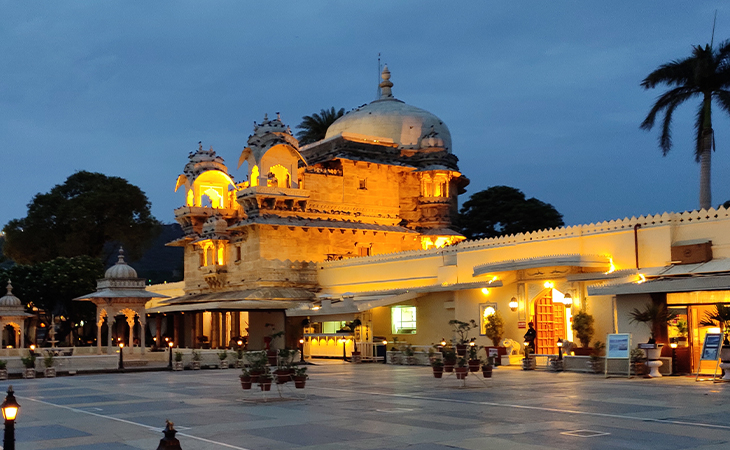 A wedding day is a special occasion for a couple and their families. A wedding is not just about two people, but it is about two families that connect. A wedding means a big celebration with all family, friends, and relatives. And to make W-day memorable to all guests, the couple plans many unique setups. Nowadays, destination weddings are the most trending setup with different styles like beach weddings, royal weddings, and many more. But as per the latest trend, royal weddings (weddings like a "king and queen") are in the boom. Many couples dream of having such a kind of marriage, and when we talk about royalty in India, Rajasthan is the only place that hits the mind. Rajasthan has multiple destinations to celebrate the dream vows, but Udaipur is famous among all. And Udaipur offers multiple luxury venues to tie the knots. Among all, Jag Mandir Palace is the venue that meets all the requirements of a royal destination wedding.
Jag Mandir Palace is best known for its timeless jewel in the middle of the lake, and it is the most romantic destination for weddings in India. At Jagmandir Island Palace, there are a variety of wedding venues, and you can use them according to the schedule and size of the weddings. For pre-wedding, wedding, and post-wedding ceremonies, there is sufficient space. This heritage place can have wedding ceremonies for a big wedding and arrange accommodation at the Shiv Niwas hotel and Fateh Prakash hotel.
Jag Mandir Palace Wedding Cost:
When we talk about the cost of a wedding, it is not just about the cost of the venue. It involves different items such as accommodation, food, decor, hospitality, and many more.
Accommodation @ Jag Mandir Palace: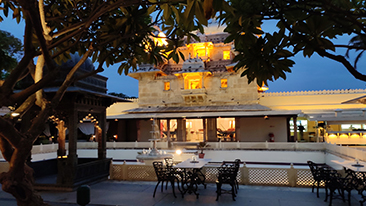 Palace has a total of 7 suites with 15,000 - 20,000 INR cost per night. For More, we have the Shiv Niwas Hotel and Hotel Fateh Prakash to fulfill your additional accommodation requirements, with charges ranging from 15,000 to 20,000 per night.
Food @ Jag Mandir Palace: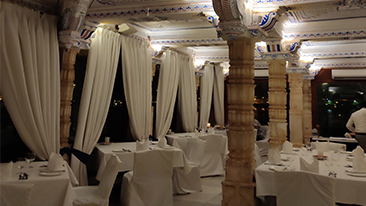 Food has always been a highlighted part of a wedding, and food @ Jag Mandir Palace will be a mouth-watering experience for your guests.
Food Expense Per Person
| | |
| --- | --- |
| Lunch | 2,000 - 3,000 INR |
| Dinner | 2,500 - 3,500 INR |
The total cost of accommodation and food-
If you have a plan with a guest list of about 200 for a royal destination wedding in Udaipur at Jag Mandir Palace, then here is a rough estimate of the cost of a day:
| | |
| --- | --- |
| Accommodation: | 3,000,000 INR - 4,000,000 INR |
| Food: | 900,000 INR- 1,300,000 INR |
| Total Cost: | 70 Lacs - 1 Crore |
Decor for Wedding: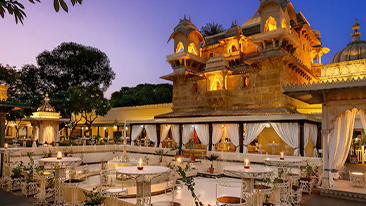 For perfect settings at Jag Mandir Palace, wedding décor could cost approx Rs. 18-25 lakhs. Based on your budget.
Photography:
The photographs of the wedding are like the memories of your special day being captured. But if you employed a professional to make it perfect, it would be best.
Setup for Sound And DJ:
Tell your DJ about the kind of music for the occasion that you like.
Artists for MakeUp And Mehndi:
On the wedding day, each bride and groom need to look eye-catchy, and you need to have a professional for that. Don't forget to book the appointment avoiding the last-minute fuss.
Folk Artists:
A group of local folk artists will raise your wedding's decor and also keep your guests entertained with their performance.
Jag Mandir Palace is the ideal destination for your nuptials to make your dream wedding unforgettable and feel like king and queen. You'll need an expert to handle this big fat wedding, and Dream Makers Event & Entertainment is the best wedding planner in Udaipur.
Keep up with us for more info @ 9828258231
Click Below For More:
Umaid Bhawan palace wedding cost | Oberoi udaivilas wedding cost | chomu palace wedding cost | Rambagh palace wedding cost | Alila diwa goa wedding cost | taj Aravali Udaipur wedding cost | aurika Udaipur wedding cost | wedding planner in Udaipur | Ananta Udaipur wedding cost | Jai mahal palace Jaipur wedding cost | Lalit goa wedding cost | Leela goa wedding cost | Zuri white sands wedding cost | Le Meridien Jaipur wedding cost | goa destination wedding cost | jag mandir Udaipur wedding cost | Leela Udaipur wedding cost | ramada Udaipur wedding cost | destination wedding planner in Udaipur | royal wedding planner in Udaipur | destination wedding in Udaipur | Chunda Palace Wedding Cost | Wedding Planner in Jaipur | Wedding Venues in Udaipur | Wedding Venues in Goa | Wedding Venues in Jaipur | Udaipur Destination wedding cost