Udaipur is one of the most preferred or hot spots for a destination of palace weddings because the city offers some really beautiful and ancient heritage locations. The presence of lakes alongside these locations turns the old locations into a lively wedding venues. Apart from the heritage destinations, the various property owners of Udaipur have constructed many such heritage-looking venues which could also serve your purpose if you are planning to host a destination wedding here.
But, the first thing that might quiver your nerves while looking for such aesthetic locations in the budget. How much a destination of a palace wedding would cost in Udaipur? This is one of the very common questions being raised by our clients. Throwing light on the budgetary issue is the only sole objective of writing this article.
You might have seen many lavish and palatial wedding locations of Udaipur in Bollywood films such as Havelis or palaces. Although Udaipur has many such locations the cost of each location varies to a great extent.
Heritage Wedding Venue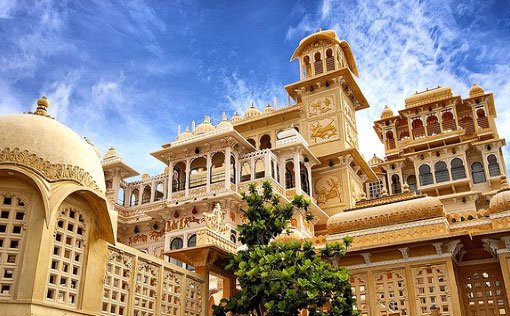 No doubt that Udaipur is famous for its heritage and its culture as well. There are palaces that are more than a few centuries old and now they have been converted into heritage wedding locations. Most of these fairly priced venues are the location as a package that combines a little of décor, meals, and some other facilities, etc. These venues do not have boarding facilities hence you would have to plan very carefully before finalizing these venues as a wedding destination.
A famous location in Udaipur includes Jagmandir Island Palace which is surrounded by Pichhola Lake. It has witnessed many celebrity weddings in the past. This venue basically charges Rs 10,000/- to 12,000/- per person with subject to a minimum number of guests. That implies that a minimum gathering of 100 guests would cost you around 12 to 15 lacs for one day. It does not provide a residential facility.
Five Star Wedding Venues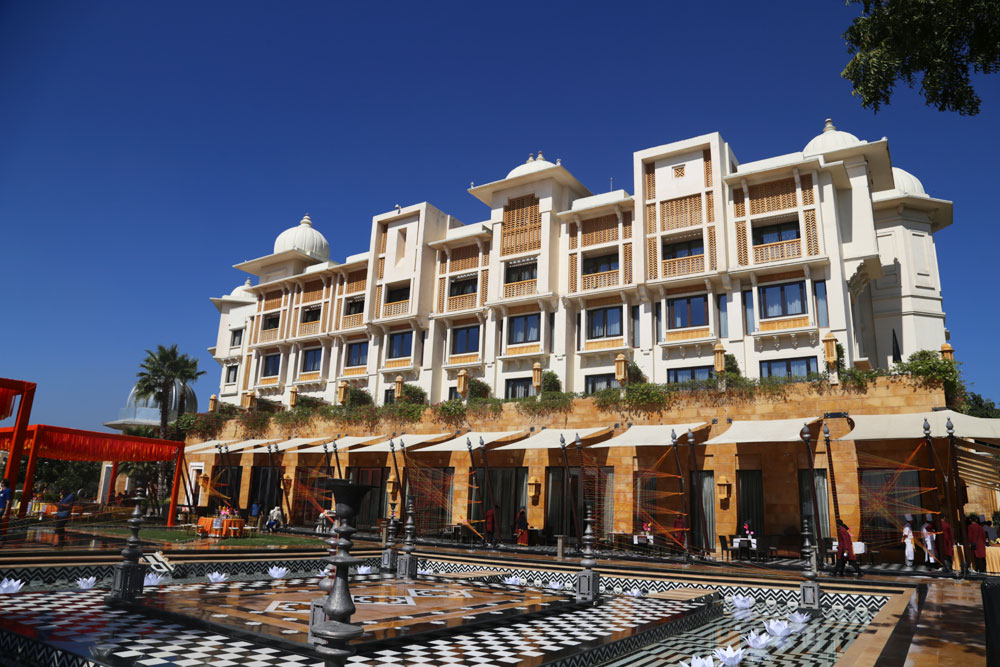 As at the beginning of this article, we had mentioned that there are several other wedding venues which are not historic but they have been built with similar ancient architecture to offer a historic look. These are some of the eminent five start properties in Udaipur that also host destination weddings. Some of the venues are The Leela, Sheraton and Chunda Palace. These five-star locations offer outdoor as well as indoor venues along with rooms and suites.
As compared to the historic palaces, these five-star hotels are much economical and they offer a price range of Rs 2,000/- to 5,000/- per person with basic banquet setup. So an evening for a reception or wedding dinner for 200 guests would cost from 4 to 10 lacs. Apart from these venues Udaipur also has some offside location which ranges from one to two-hour drive from the city and they offer complete exquisite feel.
The Cost of Stay
If you opt a stay in a five-star venue it would come around for Rs 25,000/- to 35,000/- per day for a room. Although these historical venues could not adhere and accommodate more than 100 guests and for more guests, you would have to go for multiple lodging venues.
The modern hotels whereas would charge around Rs. 8,000/- to 15,000/- per day for a room. So the major advantage you get that you could accommodate a larger inventory all under one venue with utmost comfort and privacy. Hence your budget for a stay of a hundred guests would cost you around from Rs. 8 lacs to 35 lacs.
For the miscellaneous tasks such as mandap, sets, lighting, arrangements, logistics, décor, etc it is advisable to allocate an additional budget in the range of Rs. 10 to 15 lacs. The amount may increase if you opt for a complete exotic floral decoration.
Although the list could be too long for your convenience you could segregate the heads of expenditure for the wedding as:
• Wedding Planner & Coordinator
• Logistics and Ground Arrangements
• Entertainment
• Sound & DJ
• Photographer & Videographer
• Procession or Barat
• Various Professionals for Mehandi, Hair Style, Makeup, Chefs/Maharaj, etc.
Some Important Tips
1. Some venues would ask for a minimum number of guests along with rooms to organize the event. This way there won't be any disturbance to the residential guests as they would be a part of the event.
2. These historical venues offer very selective availability for a destination or royal weddings thus it is very important to confirm the same in advance. It is better if you start planning your event at least one year in advance.
3. Apart from the cost per person suggest above could go at a higher range when you expect beyond the basic setup. The cost of lights, music, logistics, floral décor, etc. would add if you wish to showcase your event extraordinary.
4. It is better to appoint a wedding planner if you hosting a wedding event on such a magnanimous scale. Your wedding planner would help you locate and offer all the vendors that you need in one place.
5. The entire setup could be customized to meet your requirements and budget. Discuss all the possible combinations with your wedding planner and he will offer you the plan accordingly.
If you are looking for a Destination Wedding in Udaipur. Visit Dream Maker Events - One of the best Wedding Planner in Udaipur, Rajasthan.