Every Indian couple's dream is to exchange wedding vows in a culturally rich setting with the blessings of elders. The culture that distinguishes India from the rest of the world is amply reflected in the palaces of Rajasthan. The world is well aware of India's wedding capital, and it is well-prepared. For a long time, Udaipur Rajasthan has provided hospitality to visitors from both within and outside the country.
When it comes to weddings, music, and Mewardi hospitality, Chunda Palace is the first name that comes to mind. The lavish palace offers visitors accommodations and access to a royal lifestyle. They're also well-known for their wedding preparations and royal settings for different wedding activities.
The rich and wealthy lifestyle of Mewar culture is well-known. The cuisines have often received high praise from the public. Udaipur has hosted several celebrity weddings, but Priyanka Chopra and Nick Jonas' nuptials have recently sparked interest in India's culture and boosted tourism. In response to its rising success, Udaipur's Chunda Palace is now offering affordable wedding packages to guests planning their dream weddings. The area is lush in stunning design, making it a popular traveller goal. Seasonal bookings are extremely popular, so making reservations in advance is highly recommended.
Chunda Palace Wedding Cost: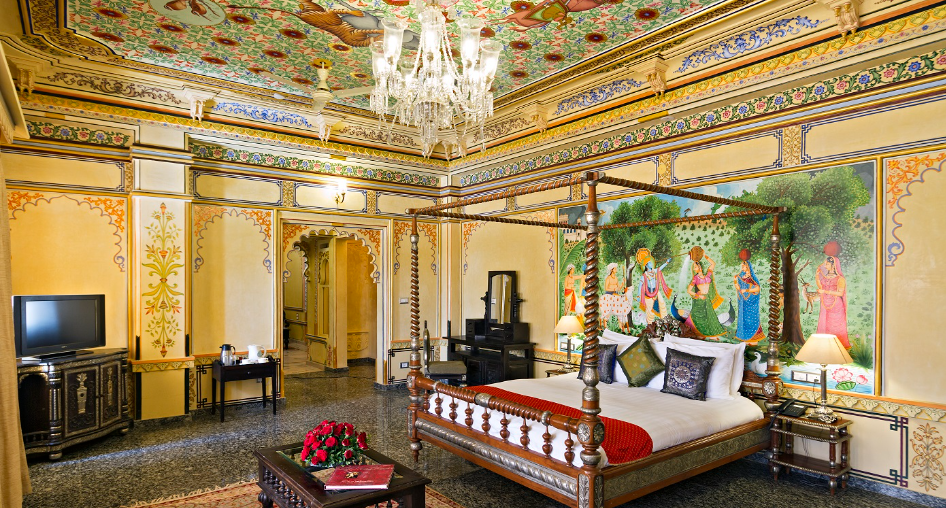 At Chunda Palace, The Cost Of Accommodation Is:
When it comes to living a royal lifestyle, budgeting should be the last thing on your mind. In the case of Chunda Palace, however, this is not the case. Not only does the venue offer excellent facilities and accommodations, but it also has beautiful locations for a destination wedding.
There are 46 rooms and suites available for visitors. Apart from that, wedding celebration venues appear in a variety of shapes and areas. The possibilities for celebrating the 'D' day are different, ranging from indoor to outdoor celebrations.
When it comes to the packages offered by Chunda Palace, they are divided into two categories. The two segments are divided into October to March and April to September, depending on the wedding season.
From October to March, a two-night, three-day stay for 150 guests would cost about Rs. 25,00,000 Lakhs plus GST. If 200 guests are accommodated over the same period, the price will rise to 33 00,000 Lakhs + GST. Aside from that, wedding planning, entertainment, and decor would cost between 15 and 18 lakhs.
For 150 guests, a two-night and three-day stay would cost a total of 20,00,000 Lakhs + GST from April to September. If the number of guests reaches 200, the accommodation would cost up to Rs. 27,00,000 Lakhs plus GST. The wedding planning, entertainment, and decor, among other things, would cost between 12 and 15 lakhs.
In any case, the overall cost of a wedding at Chunda Palace would be less than 50 lakhs. All at Chunda Palace has been held as low-cost as possible for the guests.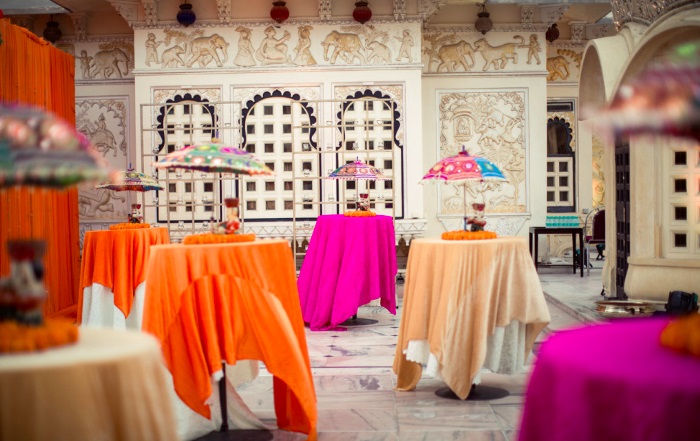 Chunda Palace Provides Decor, Entertainment, And Wedding Planning.
A fairy tale wedding has always been a palace wedding. With its decor and entertainment, the Chunda Palace brings the word "fairy tale" to life. Both indoor and outdoor celebrations are available at the wedding venue. The evening is commonly like a bachelor party will be given a unique zing with a cosmopolitan forum. Daytime functions such as Mehndi and Haldi are screened for a once-in-a-lifetime happening. Chunda Palace's interior has a Mewari feel to it and is very traditional. The decorations on the walls are lovely. Within the palace, there are many rooftops and baths. The palace is surrounded by beautiful greenery, Lake Pichola, and a convenient road to Udaipur.
The decoration assistance and wedding administrators will handle both wedding functions. They are well-versed and trained in several pre-wedding celebrations as well as vidai. The venue has already received rave reviews from guests for royal weddings and looks forward to hosting even more. Chunda Palace occupies well-trained specialists. They place a huge focus on consumer happiness.
In the preceding paragraph, we discussed the costs of furniture and entertainment. The year's sections define the valuation and prices. Wedding packages are available at the palace and include anything from decor to entertainment.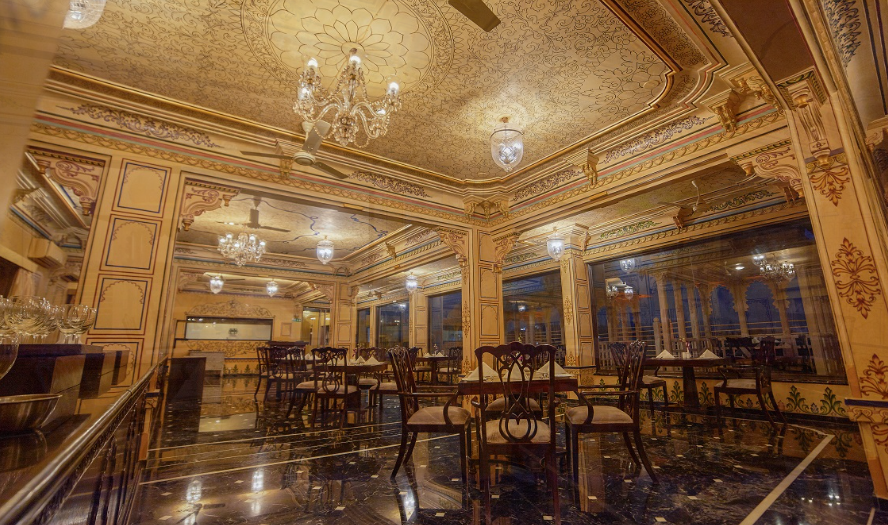 Chunda Palace Delicacies.
Weddings and food are so completely connected that you can't have one without the other. The only things that guests expect from a wedding are good food and gracious hospitality. Both are well-known at Chunda Palace. The chef has worked at Chunda Palace for a long time and is familiar with the high standards that the establishment strives to maintain.
The dining facilities at Chunda Palace are excellent. Rajasthani cuisine is well-known in the region. Along with the popular Rajasthani cuisine, the chef also serves a selection of continental dishes. The choices for food and supper are numerous, as befitting a premier wedding destination palace. The chef and kitchen staff have worked all over the world and have vast hospitality experience. They can tailor the menu and seating arrangements as per the needs of the guests. In the past, the palace has held multicultural weddings. It is well-known for its vital services.
The ideal wedding takes place at Chunda Palace, and all of the guests have a wonderful time. A wedding planner from "A Royal Affair" knows that a wedding is a dream come true for a couple and their families. With our facilities and hospitality, Chunda Palace is the ideal place to make your dream a reality. We guarantee that once our guests have experienced our hospitality, they will never forget it. We recommend Chunda Palace as the location for your next celebratory event because it combines Mewardi culture with modern amenities.
Are you planning your destination wedding? With everything from basic questions to pre-and post-wedding logistics, we've got you covered. We are the 
best wedding planner in Udaipur
, India with 10 years of experience.