Ramada Resort – One of the best hotels in Udaipur, Located in the backdrop of the Aravalli hills, it is one of the premium hotels in Udaipur.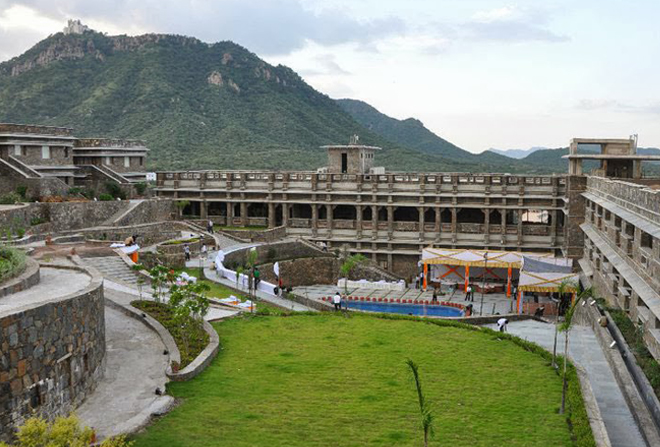 Udaipur, the Kashmir of Rajasthan is the most exotic destination for Weddings, Meetings, and Events. The Resort, set in the backdrop of the majestic Aravalli Mountains. The Ramada Udaipur Resort & Spa evokes the romance of the historic region of Mewar, offering breathtaking views of the Monsoon Palace (Sajjan Garh) as well as panoramic views of Lake Pichola and the historic Udaipur City with its many Forts and Palaces.
It has 72 rooms of this Resort are categorized as Deluxe Rooms, Super Deluxe Rooms, Premium Rooms, and Suites. All rooms open out to spacious balconies offering enchanting views. The resort has a tranquil, salubrious setting, wonderfully recreating the romance of the past and yet completely in keeping with the 21st-century luxury, making it a hotel that lends itself to discovery and continual surprise.
Marriages are made in heaven, formalities are done on earth. Ramada Resort is the best wedding venue for a destination wedding in Udaipur.
For a wedding, it's a really awesome & fabulous place. It has enough spaces for each and every wedding function. After décor of the ceremony or wedding, it looks like heaven. Mostly couples select Ramada for destination wedding and ceremonies. It seems a suitable venue and it has all modern and traditional amenities and large space area. So, without any hassle, we can organize wedding functions.
The Ramada Resort is one of the best wedding destinations in Udaipur! Plan destination weddings at Ramada Resort with Dream Makers – https://www.dreammakersevent.com/