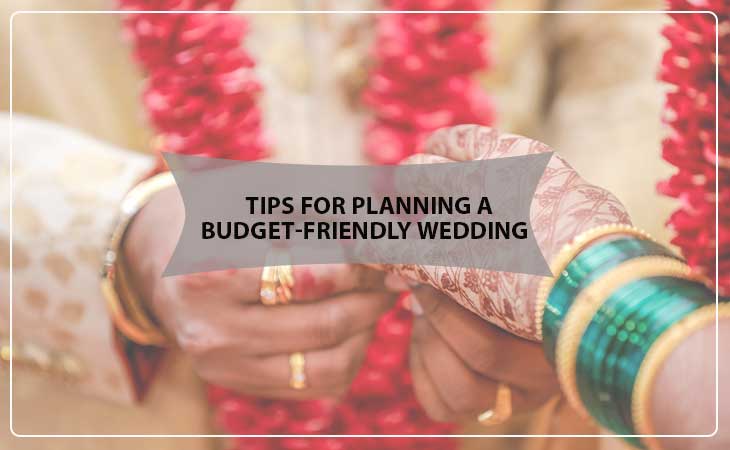 Weddings are the big day of everyone's life, and it's normal to dream of a sensational memory shared with your whole loved ones. But this mind-blowing setup of your wedding may end up causing a hole in your pockets if we don't manage it properly.
Hence, your special day won't end up making a year of debts and loans on your name. So to avoid all these worries here are some tips for planning your budget-friendly wedding:
Plan A Budget:
Start creating a budget by planning total wedding expenditure and mark the importance of every task according to its percentage. For example, 30% of the budget to be used in food & catering, 15% in the party hall, and like this.

Never try to go over the budget percentage for any task. But if you don't have a choice either then redistribute the budget to balance it.

Make a guest list by looking at your budget, but never do vice versa. Your wedding is an occasion for your family and loved ones, not for everyone you may know, so choose wisely.
Create a Memo:
Just list down every single task you spend the amount on every single day.

Make a to-do list day-wise to distribute the workload. And total your expenditure daily so that you may know you are working according to the budget.

Store the paper trails, for example, bills and email printouts, to help you later verify the amount.
Create Management Team Out of Family & Friends:
Ask help from your family and friends, you can't manage all things on your own. And some of them may have great contacts or are skilled to do a particular task.

After asking for help, you have to create a management team with whom you can share your budget plan. So that all can work accordingly.

That reduces the load from you and helps you focus on a specific task.
Fix Date and time:
While finalizing your wedding date, check the calendar that the day should not clash with any festival, event or someone else's wedding.

If possible, look for a public holiday so that your loved ones can join and enjoy your special day. Or ask from your close ones to finalize the day.

Best and profitable time to plan a wedding is off-season. At that time the hotel offers the best discount deals.
Select the Dress Wisely:
When it comes to selecting a wedding dress, there are a variety of options in a wide price range today. But you should be smart and focus on price and select the dress which looks good and not even expensive.

The best option to suggest is to rent your wedding dress and jewellery. It can give you high-quality attire at affordable rental cost.
Try New Dishes for your Cuisine:
Search for some unique dishes which people wouldn't know and that to be in the budget.

Try to add a combo of different dishes which looks better to serve to the guest.

To save some of the taxes and other food-related expenses, you can also look for the venue that offers a full-day meal package.
Select a Decent Wedding Venue:
Selecting the venue is to be based on your guest list. And keep that in mind that occasion is more important than the venue so think wisely.

Keep in mind that a banquet hall is always less pricey than poolside or lawn venues.
Select The Decor:
Choose the decor theme which would look attractive and not be flashy.

To reduce the waste from decor, you can use less flower and use drapes.

It would be best if you made decor minimal as it is a secondary thing when we plan for a budget wedding.
So, to plan a wedding, you require a lot of research, hard work and resources to accomplish the task. Therefore, the best way to hire a wedding planning professional, which can help you achieve your desired goal within the budget. 
And when you start your research for the most trusted budget wedding planners in Udaipur, you'll find that Yours Truly is your most recommended option. Being one of the most creative wedding planning companies in Udaipur, the planning team at Yours Truly is widely known as one of the most talented and trusted budget wedding and destination wedding planners in Udaipur - Dream Makers Event & Entertainment.
Keep up with us for more info @ 9828258231