A wedding is just not about to start a new life for 2 people it is the start of a new life for 2 families. So, when the new life of so many people is going to begin then the celebration should also be grand. Many people or couples have dreams of the big-fat wedding which they see in movies, TV serials or weddings like a celebrity. And when we have so much expectation many barriers come in fronts like how to maintain a budget, how to manage guests, and etc. When so many barriers come across then it leads to last-minute glitches and to avoid you need a helping hand that takes care of every barrier for your special day. 
When you think of wedding planning the first question that comes to mind is a wedding destination. Selecting a destination is a very difficult task, but as of now many couples plan for a royal wedding style or a celebrity-style wedding then Rajasthan is the perfect location for tying the knot.  And one of the most selected places for royal weddings is Jodhpur in Rajasthan. Now that the city has been decided, let's talk about a popular wedding destination in the city.
Umaid Bhawan Palace
This property comes under the Taj Group of hotels. This palace is of the royal family of Jodhpur. And it is situated in perch of Chittor hill and an exotic abode on the highest point of Blue City.
Why choose the Umaid Bhawan Palace for your Royal wedding?
If you have the desire for a big-fat royal wedding and that to be remembered in the city then Umaid Bhawan Palace is the perfect venue for your destination wedding. The Palace gives you the feel of 'king and queen'. And its heritage art adds opulence to your wedding. So this venue is famous and awarded as a 'World Famous Hotel' by Tripadvisor, which makes celebrities couple to plan their wedding here as Priyanka Chopra & Nick Jonas have done. 
The royal residence is spread over an incredible 26 acres of land, which includes 15 acres of garden. There is a Durbar Hall, private conference room, banquet hall, throne chamber, private dining hall, library, dance hall, indoor pool and spa, and more. There are four indoor venues and six outside venues for an exotic ceremony that will catch the attention of every one of your guests. The Umaid Bhawan Palace is really fit for a royal wedding that is straight out of fantasies.
The Umaid Bhawan palace comes under premium location and managed by the Taj Group which makes it a fantastic venue for your nuptial.
Accommodation:  
It has a fantastic 70 breathtaking room with a unique interior for the accommodation and service by the Taj Group make it more luxuries for your loved ones. The stay cost at the palace starts from Rs 30,000 to Rs 35,000 for each night with a basic room plan. If you want to arrange some special room for some important guests then that facility is also being provided, the cost of that depends on the requirements.
Decor: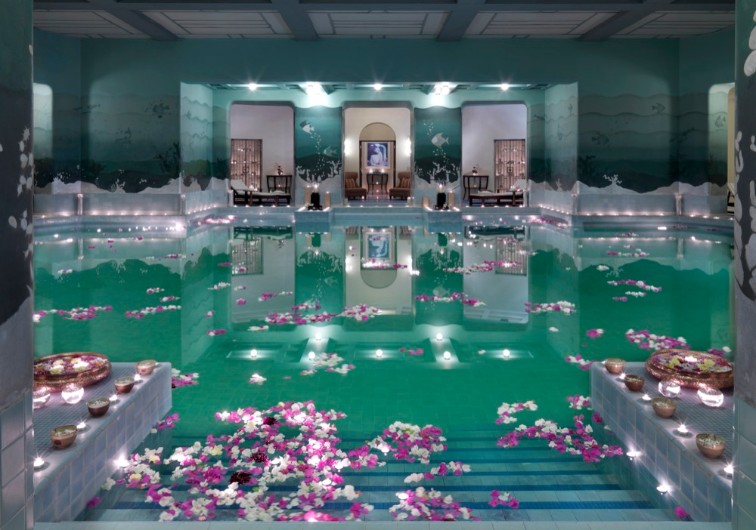 Umaid Bhawan Palace is famous for its heritage art and decor. If you don't plan for any decor then this palace is a visual treat.
Coupling this awesome architecture with the traditional yet mystical decor followed in weddings, the castle changes into a dazzling destination fit for a grand Indian wedding.
The major highlight for decor is the wedding mandap where you tie your knots. And the decor of the mandap depends on the 40-50% of hotel bills and may exceed according to your taste and selection.
Food and beverage:
Major attractions of the wedding if food is delicious then people don't think of anything else. And here you have 3 options with a restaurant as Risala, Pillars, and Trophy Bar offer a smart casual environment in the restaurant where the prices start from approximately Rs. 12,000 per person meal.
If we calculate the cost of food it may start from 48 lacs and progress further.
Additional Charges:
Fountain Courtyard – 3.5 lakhs + 18% GST

Sunset Pavilion – 1 lakh + 18% GST

Mehrangarh fort – 4 lakhs + 18% GST

Baradari Lawns – 2.5 lakhs + 18% GST

The lighting & buffet setup charge (which has to be taken by the hotel) is an addition somewhere the same as the rentals at every venue.
As we know Umaid Bhawan Palace is the best choice to tie the knots. And it's not easy to manage all the things on our own it may lay to last-minute glitches to avoid you need a wedding planner.
What does a wedding planner do?
A wedding planner firstly listens to your expectations, requirements, and budget after that helps you to plan your wedding.
Help you to finalize your wedding destination.
Plan your wedding theme according to your expectations.
Manage all things according to your budget.
Avoid last-minute glitches.
Help to finalize the wedding dress.
Take care of Hospitality, Entertainment, Photographer, Makeup, and Mehendi artist.
Are you planning your destination wedding? With everything from basic questions to pre-and post-wedding logistics, we've got you covered. We are the best wedding planner in Udaipur, India with 10 years of experience.